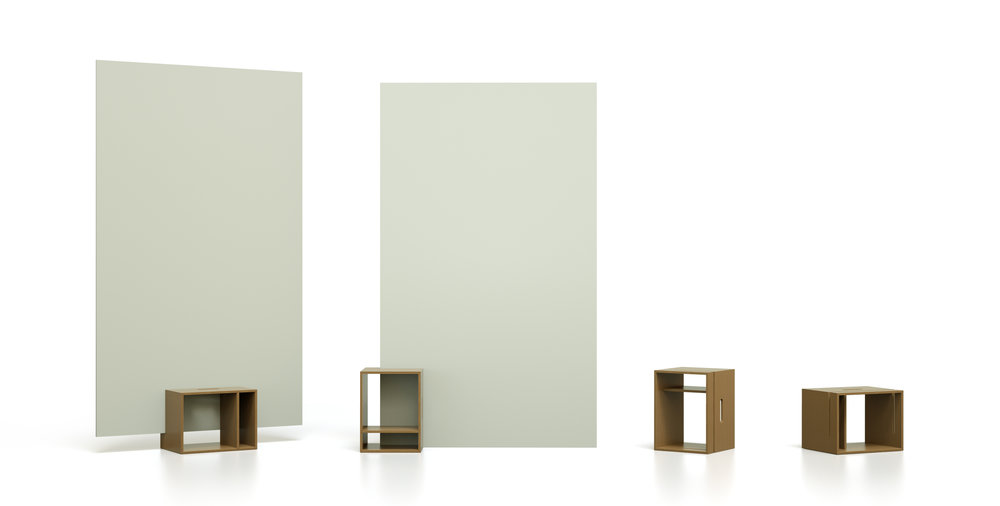 Whiteboard stand, stool and shelf.
Material Beech multiplex, matt lacquered ― Dimensions & weight 40 x 30 x 30 cm; 5 Kg ― Delivery In cardboard packaging, fully assembled.
STANDS FOR STUDIOBOARDS
Ideal to place a single Studioboard freestanding - for example next to the desk and continue working on the previously created content. Due to the integrated handle the cube can be carried with the board (if the ceiling is high enough).
BASE FOR ENDLESS WALLS
When the cube is placed upright, the boards can be fixed at floor level and additional boards can be added with the clips so that partitions or presentation walls can be set up quickly and easily.
STOOL WITH STORAGE
The Cube is also ideal as a stool and thereforeoffers additional seating. It also provides storage space for a notebook, tablet, bag and other small items during meetings and workshops.
MOBILE AND STACKABLE
Weighing only 5 kg, the Cube can be easily transported with the integrated carrying handle. It can be stacked, thus saving space, as well be used as a flexible shelf.
high-quality manufacturing
The Cube, like all our wood products, is manufactured by a carpenter in the Black Forest with over 100 years of experience in highest quality and precision. The design is characterised by a purist form and clear lines, which makes it harmonious with any environment.
O T H E R P R O D U C T S